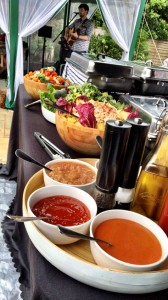 We pride ourselves on being the most experienced, passionate and creative hog roast catering company in Norwich. We love what we do! What sets us apart is our careful consideration of every single detail, our commitment to using only the finest and freshest local ingredients, and our highly adaptable approach to menus, locations and service. We strive to make every single aspect of your day absolutely perfect and give you and your guests a memorable dining experience every step of the way. We don't do generic packages that are set in stone- we adapt our menus to suit your tastes and needs, whether you would prefer an alternative meat to pork, or you require vegetarian options for guests who don't eat meat at all.
For Hog Roast Norwich, nothing is impossible, and we are always willing to make alterations to any of our menus to make sure every single guest is happy.
Our Unique Menus And Fresh Ingedients
Here at Hog Roast Norwich, we never compromise on quality. All of our ingredients are carefully selected from the best local producers and we always prepare everything fresh at the venue. Nothing we supply is packaged or pre-made, and regardless of your event or budget, every dish is made using the same high-quality produce and prepared with the same amount of care and attention.
We always arrive at your venue several hours before your event is due to start and patiently roast your choice of meat to perfection, whether it be pork, lamb, beef or chicken. During which time all of the other elements of your chosen menu are deftly prepared from scratch by our skilled catering team, whether you require a complex corporate menu with canapés, a 3-course wedding meal or vegetarian alternatives for an informal buffet.
Regardless of how many dishes and courses we are preparing, our efficient team works seamlessly to bring everything together and we are always ready to serve exactly when you want us to.
Our Machines And Roasting Methods
We couldn't achieve such amazing results every time without our incredibly modern, top of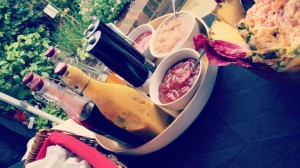 the range hog roast machines. They are designed to adapt to any environment and they are compact enough to be transported to any location with ease, whilst still being able to cook a vast quantity of meat.  This combination of practicality and efficiency makes our catering options excellent value for money when feeding a lot of people, whilst also providing your guests food of the highest quality every time.
If you want to hear more about us or even enquire about a catering service then please do either give us a call or complete our online enquiry form.